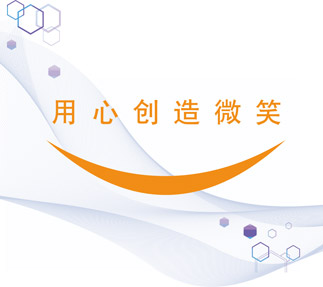 Enterprise culture
Corporate logo

Use words directly performance: Chinese and English signs, readable, straightforward, see the Chinese flag, also studied the English pronunciation. Text structure with a standard block, rational, simple and clear, is a professional pharmaceutical industry, with the high-tech and modern. Sedate modelling single blue at the same time both the attribute of the pharmaceutical industry: clean, simple but elegant not lose vitality; Standard familiar word give a person a kind of safety, the attitude of rigorous, serious, meticulous style. Compact model, pure color, to adapt to enterprise institutions at home and abroad of visual communication. Can also reflects a big enterprise standard and the pharmaceutical industry development characteristics, mature, rational, inside collect, concise not pompous.

Enterprise auxiliary sign
Auxiliary sign smile pattern for the enterprise, the color of warm sunshine, shaped like a vivid modelling, reflect the "intention to create a smile" business philosophy. Beattie pharmaceutical industry to care for the public, serve the public, the smile spread to every corner of the world.
Enterprise culture
Speedy pharmaceutical advocacy of "five thought:" to science and technology as the power, to production as the backing, take the market as the guidance, with talent as a fundamental, by means of management, is committed to the development of medicine. The company has a strong financial strength, the high new technical force and a group of high-quality, younger, professional personnel, using modern scientific means to efficient management, quality and skill training on a regular basis, the company has strong cohesive force, the vigorous vitality and innovation and enterprising spirit.
Beattie pharmaceutical advocating "intention to create a smile" business philosophy, and thus formed the unique enterprise culture. Company will be first-class talents, first-class management, first-class service, first-class performance, and continuously forge ahead, with scientific and rigorous attitude to participate in and promote the development of Chinese medicine, smile bring to human health.
We are trying to weave all bright smile!
COPYRIGHT GUANGDONG BIDI PHARMACEUTICAL CO., LTD. © 2015 POWERED BY WWW.300.CN